50th Session of the United Nations Statistical Commission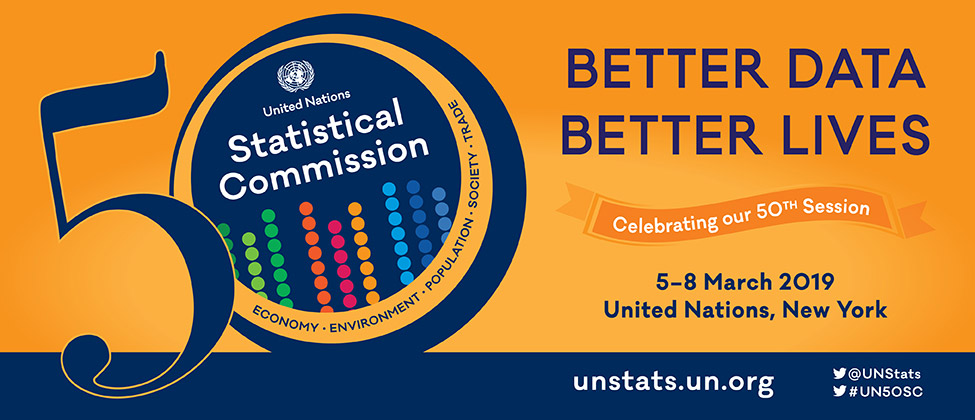 Meeting Title: 50th Session of the United Nations Statistical Commission
Location: New York, USA
Date: 5th - 8th March 2019
Partners: UNSD
SDG Indicators: All SDGs
Type: Better data, better lives
The United Nations Statistical Commission, established in 1947, brings the chief statisticians of Member States together from around the world. It is the highest decision-making body for international statistical activities, specifically the setting of statistical standards, the development of concepts and methods and their implementation at the national and international levels.
On 6 July 2017, the General Assembly (resolution 71/313) adopted the global indicator framework for the Sustainable Development Goals and targets of the 2030 Agenda for Sustainable Development developed by the Inter-Agency and Expert Group on Sustainable Development Goal Indicators, as agreed upon by the Statistical Commission at its 48th session, as a voluntary and country led instrument that includes the initial set of indicators to be refined annually and reviewed comprehensively by the Commission at its 51st and 56th sessions. It also requested the Commission to coordinate the substantive and technical work to develop international statistical standards, methods and guidelines, where necessary, to fully implement the global indicator framework to follow up and review the Sustainable Development Goals and targets; and to further refine and improve the global indicator framework.
The utilization and improvement of quality in administrative data can respond to the many data needs of the 2030 Agenda and the SDGs and in its fiftieth session, 51 countries presented their Voluntary National Reviews (VNR). Many of the submitted reviews having benefited from the work of the statistical commission and its partners, through chief statisticians in countries, where the statistical systems provide the data and statistics that are the necessary foundation for the reviews. A good example would be the work of UN Environment's Capacity Development in countries on Environment Statistics and measuring of the SDG Indicators.
Out of the several sessions held during the 50th Session of the United Nations Statistical Commission, key to UN Environment were the following sessions and side events:
Agenda item 3(a): Data and Indicators for the 2030 Agenda for Sustainable Development
Agenda item 3(l): Environmental-Economic Accounting
Agenda item 4(e): Big data for official statistics
Agenda item 4(g): Common open standards for the exchange and sharing of data and metadata
Side Event: Meeting of the Committee of the Chief Statisticians of the UN System (CCS-UNS)
Side Event: 33rd session of CCSA
Side Event: Natural Capital Accounting: Connecting the Pillars of Sustainability
Side Event: Sustainable Business Model for the UN Global Platform
Monitoring environment sustainability of the SDGs: success stories from Africa, Asia and Latin America
For more information on the 50th Session of the United Nations Statistical Commission, visit: https://unstats.un.org/unsd/statcom/50th-session/
Menu options